Industrial Controls Training System….
ECI's model 240SC hands-on Industrial Controls Training System brings real industrial components with interchangeable modules and the latest control and circuit technology to your lab. This Industrial Controls Training system contains a complete set of industrial "off-the-shelf"
components to complete the experiment. Both IEC and NEMA components are available.
---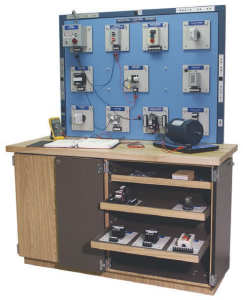 LARGE PANEL AREA
Nonconductive 48" x 36" surface with permanently mounted studs provides fast, easy wing-nut  mounting for complex industrial control layouts.
STORAGE CABINET
The optional storage cabinet securely holds the training  panel and provides an ideal working height. It has six  sliding shelves, caster wheels, and locking doors with  industrial-type hinges. Also, the cabinet has a highpressure  plastic laminate finish with a 48" x 24" hard  rock maple top.